Employee 028 and 528 are characters in The Stanley Parable.
These characters have no significance to the plot, and not much is known about them except that their monitor in the Monitor Room displays what looks like the Phone Room, with red text over it. Both of their monitors have the same image.
After some further research, This is what the monitor says.
[In red:] ERROR ERROR BEEP BOOP ERROR ALERT DUE TO FAILURE OF THE ERROR KIND WE ARE EXPERIENCING AN ERROR [white] BEEP ERROR BEEP [red again:] //COMMENT ERROR BEEP BOOP// PLEASE CONSULT PROGRAM MAN BEACUSE [sic] OF ERROR OCCURRING IN THIS ERROR ERROR ERROR ERROR CAN THE REAL ERROR PLEASE STAND UP BEEP BOOP ERROR BEEP BOOP ERROR HONESTLY DO YOU KNOW WHAT IT'S LIKE TO PUT SO MUCH DETAIL INTO LITTLE THINGS LIKE THIS? I MEAN I'M TYPING THIS OUT AND I HAVE TO IDEA WHY, WILL ANYBODY EVEN LOOK AT THIS TEXTURE? WILL IT INCREASE THE VALUE OF SOMEBODY'S GAMEPLAY EXPERIENCE? I DON'T KNOW… IF YOU'RE READING THIS YOU'RE PROBABLY THE ONLY ONE. HELLO. [Hello.]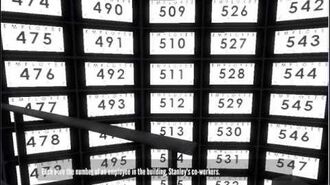 Ad blocker interference detected!
Wikia is a free-to-use site that makes money from advertising. We have a modified experience for viewers using ad blockers

Wikia is not accessible if you've made further modifications. Remove the custom ad blocker rule(s) and the page will load as expected.