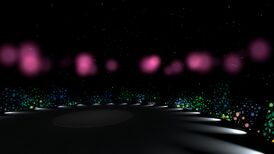 The Starry Dome is a place where the
Narrator
is trying to find true happiness with
Stanley
. The Dome appears to be resembling an outer space observatory, and is filled with constantly-moving stars and auroras.
The place can be reached by getting to the Zending; taking the red door once you see it. The Narrator will discuss some matter with Stanley, until he opens a door which leads to the Starry Dome. Beyond the Dome, there is a set of stairs that leads to a bigger set of stairs where the Zending takes place. The Narrator will pledge Stanley to go back to this Dome whenever he is scaling the stairs.
The music played in the Starry Dome also plays during the Divine Art's speech (Pillars of Light - The Floating World).