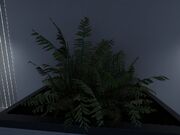 The Fern is a fern found during the Confusion Ending, while following the Adventure Line™. It is planted in a small room with light blue walls.
Importance Storywise
Edit
When Stanley passes by The Fern, the Narrator will tell him to go back in to the room and analyze it, because it "will be important later in the story" and to "make sure he studies it closely, and remembers it carefully." The importance of The Fern is disputed, as it has little to no importance storywise so far. It does reappear during the Baby Game though.