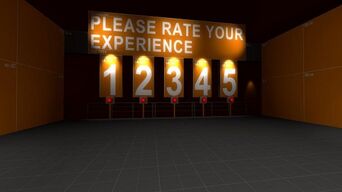 "
Please rate your experience.
"

–The Stanley Parable Experience Rating Board
Information
Edit
The Stanley Parable Experience Rating Board is a board consisting of 5 buttons the Narrator created for Stanley, after Stanley attempts to disobey him and walk straight into an unfinished section of the game.
The rating board can be found while heading to the Games/Art Ending by entering the blue door three times, and then enter the unfinished section. The Narrator will take you to the Two Doors Room (now has three doors) after his speech. Enter any door to find the rating board.
Button Options
Edit
The Narrator's speech will vary depending on what button you push:
Button 1: the Narrator becomes surprised to see you rate his game a one. Although he later confesses that he has no power to interrupt your choices.
Button 2: the Narrator will say that you don't hate nor like the HD Remix version of the game. He claims that you had made a big step about it.
Button 3: the Narrator will say that you do like his game to a certain degree.
Button 4: the Narrator says that this is only a stab in the dark.
Button 5: the Narrator will be happy if you push this button. He says that he knows Stanley enjoyed the HD Remix version better.
Once you return to this room after watching the Stanley Parable Worldwide Leaderboard, the Narrator will present you another chance to rate his game. This time, no matter what button you push, he will take you straight away to the baby game.