The Warehouse is a large, open room where countless boxes and storage containers exist, presumably to serve the purposes of the office. A low, industrial noise can be heard in the background. There is a cargo lift which presumably used to deliver/move boxes and containers alike. Next to the cargo lift is a notice board explaining the charges one should pay for misusing the lift.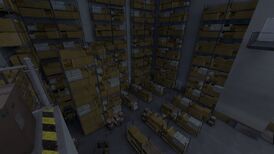 The Warehouse is where the Powerful Ending and Cold Feet Ending occur.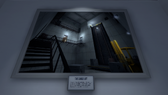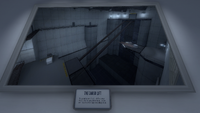 The Warehouse went through two designs before the one that is currently implemented. The first design was scrapped by the developers to give the player the option of jumping off the cargo lift and committing suicide (Powerful Ending). The second design was scrapped in favour of a room that actually looked like a warehouse. The second design also has Portal textures.
On the right wall when reaching the platform in the Warehouse, it is possible to see three dots on the wall above a bunch of boxes, with a door next to it. These three dots would also appear in Davey Wreden's next game, The Beginner's Guide, released two years after The Stanley Parable.